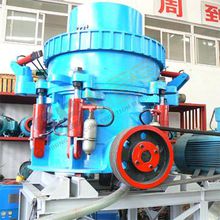 Hydraulic cone crusher
is evolved from spring cone crusher. Nowadays, hydraulic cone crusher has replaced hammer crusher, roller crusher, roller ball mill, etc. and become the mainstream equipment in sand making business.
Hydraulic cone crusher technological advantages:
Hydraulic cone crusher incorporates three crushing styles; its feeding style incorporates material on material, materials on iron and falling at sides. Customers can adjust the machines according to their own demand. This cone crusher realizes multiple functions in one machine, which is a big breakthrough in sand making field.
Excellent performance of hydraulic cone crusher:
1. Special light oil lubrication systems ensures the temperature to be within 25℃;
2. Brand new automatic protection device provides the machine with vibrating, oil filtering and warning system;
3. New type oil filtering system ensures the bearings and other transmission system are not abraded and prolong their service time;
4. Choice wearable materials prolong the service time of the machine by 40%. So the cost is lowered by more than 40%.
Features ansd value:
l High capacity and yield
l High equipment quality
l Easy and cost-effective maintenance
l Application flexibility
l Easy to operate
l Durable parts